MSRP
Sale price
List price $49.95
Translation missing: en.products.product.price.just_price
As low as $29.97
Unit price
per
Sale
Sold out
| | | | | | |
| --- | --- | --- | --- | --- | --- |
| Quantity | 2+ | 20+ | 100+ | 300+ | 500+ |
| Discount | 5% | 10% | 20% | 30% | 40% |
Share
View full details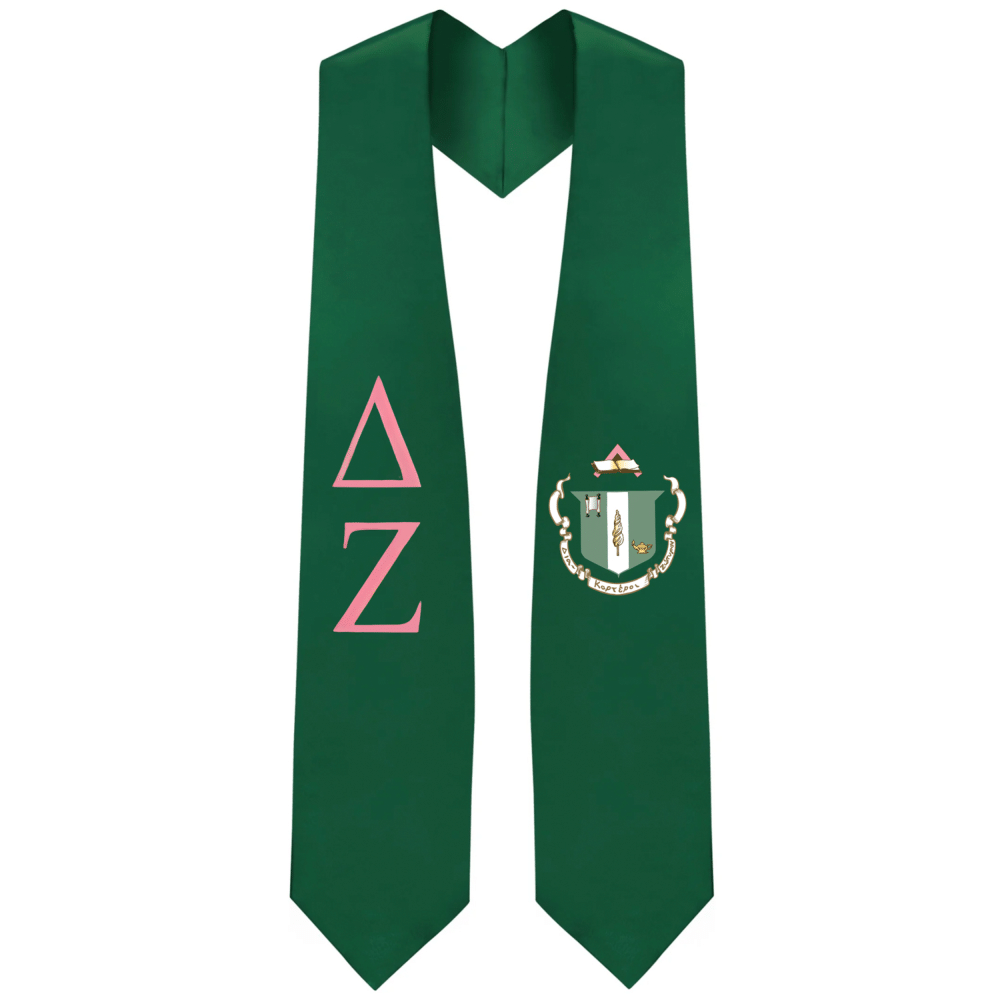 OFFICIAL seal and colors of Delta Zeta have been licensed for use.
The fabric used is of commercial quality Bridal Satin.
The item has been carefully hand-sewn.
The printing has been professionally done.
It is recommended to hand wash or dry clean the item.
The item measures approximately 62 inches in length and 4.5 inches in width.
The Delta Zeta Lettered Graduation Sash with Crest is a special accessory worn by members of the Delta Zeta fraternity during graduation ceremonies. This stole is made of high-quality satin material and features the fraternity's official crest prominently displayed on the front. The crest includes a shield with the fraternity's name and founding year, as well as symbols representing the values and ideals of the organization.
The Delta Zeta Lettered Graduation Sash Stole with Crest also features a trim that matches the fraternity's colors. This adds an extra touch of style and sophistication to the sash stole, making it a standout accessory that is sure to draw attention and admiration. The combination of the crest, greek letters, and color-matching trim creates a striking and cohesive design that represents the unity and pride of Delta Zeta members.
The stole itself is designed to drape over the shoulders and hang down the front of the graduation gown, providing a bold and impressive display of the wearer's affiliation with Delta Zeta. The sash stole is adorned with the fraternity's Greek letters, prominently displayed in a stylish font that is sure to catch the eye of fellow graduates, family members, and friends.
The Delta Zeta Greek Lettered Graduation Sash Stole with Crest is a cherished memento for members of the fraternity, symbolizing their hard work, dedication, and commitment to the organization. It is a fitting tribute to the fraternity's rich history and enduring legacy, as well as a reminder of the bonds of brotherhood that members share for a lifetime. Whether worn during the graduation ceremony or kept as a treasured keepsake, this stole is a beautiful and meaningful way to honor the Delta Zeta fraternity and its members.