MSRP
Sale price
List price $19.95
Translation missing: en.products.product.price.just_price
As low as $11.97
Unit price
per
Sale
Sold out
| | | | | | |
| --- | --- | --- | --- | --- | --- |
| Quantity | 2+ | 20+ | 100+ | 300+ | 500+ |
| Discount | 5% | 10% | 20% | 30% | 40% |
Share
View full details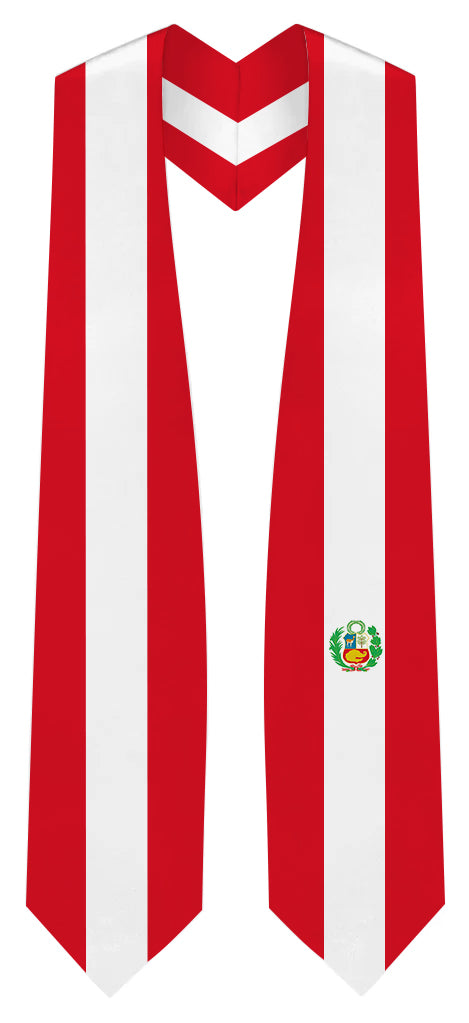 Peru Flag Graduation Stole & Sash - Peruvian Study Abroad International Stole
Our Peruvian graduation stole can represent a students Peru origin or the academic accomplishments of a student that has studied abroad. Each Peru flag sash comes individually packaged.
Made of high quality bridal satin
Arrow pointed edges
Shape made to fit for all body types
Each side measures 35" long and 5.5" wide
Fully lined throughout
Printed Peruvian flag on stole/sash



Peru Graduation Flag Stoles: Celebrating Cultural Identity and Academic Success

Graduation is a significant milestone in one's life, representing the culmination of years of hard work, dedication, and personal growth. It is a time for celebrating academic achievements, looking forward to new opportunities, and commemorating one's academic journey. Wearing a stole during commencement ceremonies is a cherished tradition that allows graduates to showcase their academic honors, club affiliations, or cultural identity. At Stoles.com, we offer a wide variety of graduation stoles that cater to diverse tastes and backgrounds, including our Peru Graduation Flag Stoles that showcase the vibrant colors and cultural heritage of Peru.

Peru is a country with a rich history and diverse culture that has captivated the world in many ways, from its breathtaking landscapes and ancient ruins to its colorful cuisine and music. Its flag, composed of red and white stripes with a coat of arms in the center, is a recognizable symbol of Peruvian identity and pride. The red stripes represent the blood of the patriots who fought for Peru's independence, while the white stripes represent peace and purity. The coat of arms, which features a sun, a cornucopia, and a vicuña, represents Peru's natural resources, abundance, and prosperity. Together, these elements form a striking and meaningful design that has endured for centuries.

Our Peru Graduation Flag Stoles capture the essence of this design in a stylish and comfortable accessory that graduates can wear with pride. Made from high-quality satin material, our stoles are available in different lengths and widths to fit different body types and graduation gowns. The colors are vibrant and long-lasting, ensuring that the stole will remain a cherished memento for years to come. On the front side of the stole, the Peru flag design is prominently displayed, while on the back side, graduates can add their personal message, such as their name, degree, or graduation year, using our customizable embroidery service. This adds a personal touch to the stole and makes it a unique keepsake that reflects the individual's academic journey.

In addition to their aesthetic appeal, our Peru Graduation Flag Stoles carry deeper meanings that resonate with many graduates of Peruvian descent or heritage. For these students, wearing a stole that represents their cultural background is a way of honoring their roots and acknowledging the sacrifices and contributions of their ancestors. It is also a way of expressing solidarity with their fellow Peruvian classmates and celebrating the diversity and richness of the Hispanic community. At a time when diversity and inclusion are important values in higher education, our Peru Graduation Flag Stoles serve as a powerful symbol of unity and pride.

Moreover, our Peru Graduation Flag Stoles are not just limited to graduates of Peruvian descent or heritage. They are also suitable for anyone who appreciates the beauty and significance of Peruvian culture, or who has a special connection to Peru through travel, study, or personal relationships. Wearing a Peru Graduation Flag Stole is a way of showing respect and admiration for a country that has contributed so much to the world, and that continues to inspire and captivate people of all backgrounds. It is also a way of celebrating the shared values of education, perseverance, and excellence that are essential for success in any field.

At Stoles.com, we are committed to providing high-quality graduation stoles that meet the diverse needs and preferences of our customers. Our Peru Graduation Flag Stoles are just one example of our dedication to offering unique and meaningful accessories that enhance the graduation experience. We also offer stoles in different colors, designs, and themes, such as academic honor stoles, club and organization stoles, and international flag stoles, that cater to a wide range of interests and identities. Our stoles are easy to order online, with fast and reliable shipping and a customer service team that is always ready to assist with any questions or concerns. With Stoles.com, graduates can find the perfect stole to complement their graduation attire and express their individuality and achievements.

In conclusion, our Peru Graduation Flag Stoles are a beautiful and meaningful accessory that celebrates the rich cultural heritage of Peru while commemorating academic success and personal growth. They are suitable for graduates of Peruvian descent or heritage, as well as anyone who appreciates the beauty and significance of Peru. By wearing a Peru Graduation Flag Stole, graduates can show their pride and unity, and create a lasting memory of their special day. At Stoles.com, we are proud to offer a wide selection of high-quality graduation stoles that cater to different backgrounds and preferences, and that help graduates make their graduation day even more memorable.